Achieving Cost Savings by Transitioning to a Low Carbon Vehicle Fleet
THREE COMPONENTS
The Promotion of Low Carbon Urban Transport Systems in the Philippines (LCT Project) of the Department of Transportation (DOTr), in partnership with the United Nations Development Programme (UNDP) has identified approaches to create an enabling environment for the commercialization of low carbon urban transport systems in the Philippines.
1/POLICY SUPPORT FOR THE PROMOTION OF LOW CARBON TRANSPORT
The effective development and implementation of low carbon transport system relies on a strong policy level support, emphasizing the imperative of sustainable transport solutions. This component pertains to the support to policy and standards development, and establishment of interagency coordination mechanism for low carbon transport.
2/AWARENESS AND INSTITUTIONAL CAPACITY DEVELOPMENT
The successful adoption and implementation of low carbon transport plans is attributed to a strengthened institutional capacity of major stakeholders, such as government agencies and local government units. This component involves activities that further capacitate the stakeholders in implementing low carbon transport solutions.
3/PRIVATE SECTOR PARTICIPATION AND INVESTMENTS
This component responds to the underlying technology, market and investment barriers. The success in increasing private sector participation in the deployment and commercialization, and investments of low carbon tra nsport systems is characterized by appropriate support to infrastructure and pilot operations of vehicle units.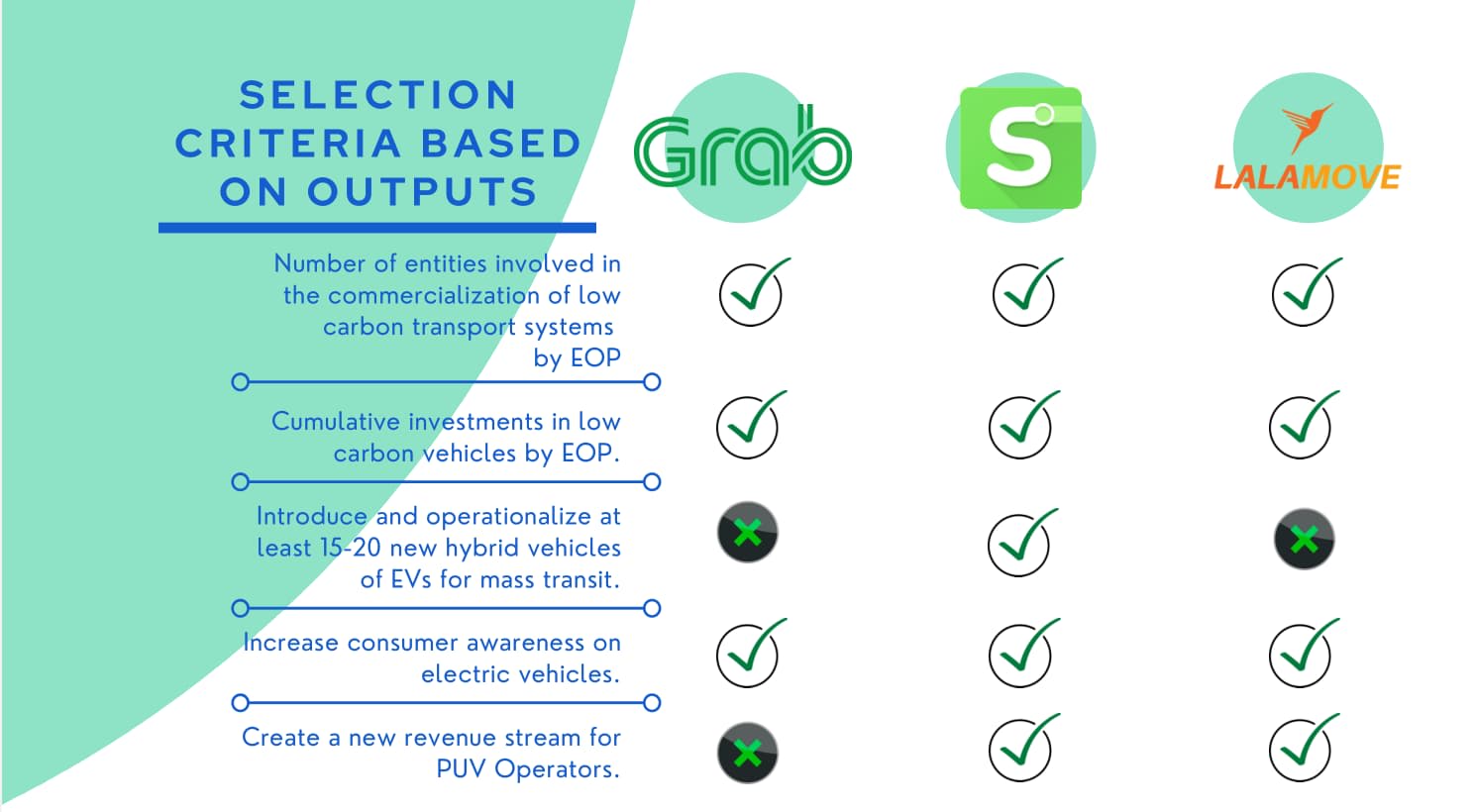 The LCT Project broadened the search for potential partners to include any technology company that enhances the Philippine public transport system and its stakeholders. After consultation with various investor networks in the Philippine startup scene, a company called Sakay Mobility Pte. Ltd. (Sakay) was referred to the LCT Project. Sakay is unique in that its mission is to digitize all public transportation routes in the Philippines, including jeepney, bus and tricycle routes, and use big data to match public transport supply and demand in real time.
BUSINESS CONTINUITY
Due to restrictions imposed by the pandemic lockdowns, the LCT Project was not able to fully execute its partnership agreements with Grab, Lalamove, and Sakay before the end of 2020. The team offered recommendations based on previous discussions with each company on how the partnership can move forward and benefit. Despite the many challenges, the LCT Project will continuously promote the transition to a low carbon vehicle fleet through an inclusive process wherein transport operators (grassroots) and the other private sectors form part of our holistic approach of LCT pathway of the DOTr.